FHA Loan Short Sale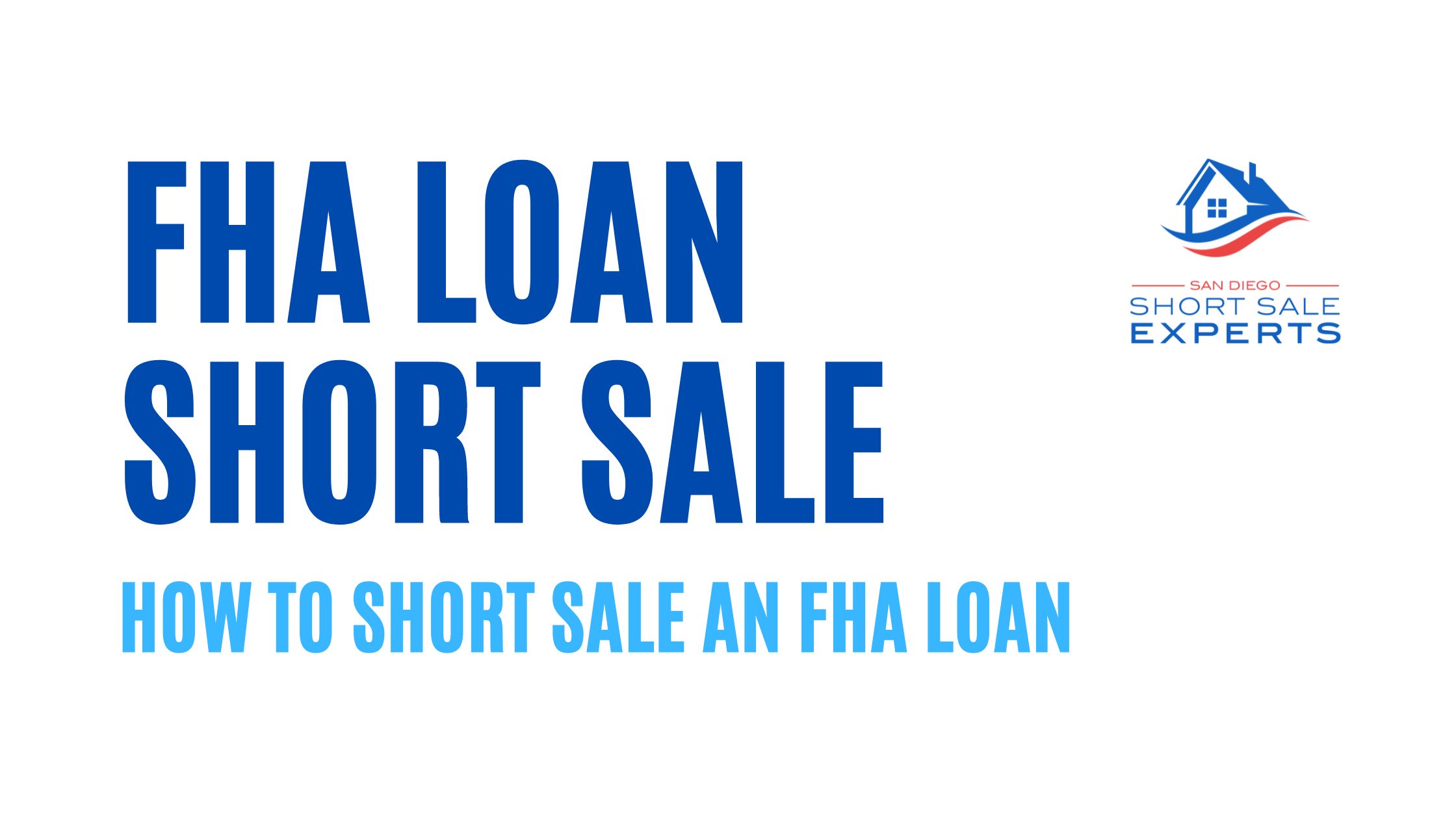 FHA Short Sale (Federal Housing Administration)
If you have an FHA loan, you can qualify for an FHA loan short sale (Federal Housing Administration) if the Department of Housing and Urban Development (HUD) reviews the file and determine that you have a qualifying hardship. All FHA short sales are governed by HUD guidelines.
A short sale in real estate happens when the total proceeds received from selling a house do not cover the total cost of paying off the mortgage and expenses involved in selling. Because the government controls short sales on FHA loans, the process is time-consuming and can be confusing to homeowners.
Basic FHA Short Sale Guidelines
There are some short sale guidelines for FHA and criteria for short sales. These are some of the criteria that the Federal Housing Administration (FHA) uses to determine eligibility for a short sale:
The home is identified as one to four units: This means a duplex or fourplex can qualify for an FHA short sale. If it is a duplex or fourplex, you are able to rent out units as long as you live in one of them. You must reside in an FHA loaner for a minimum of one year.
If a home was used as a rental previous (for no more than 18 months) to the short sale, a variance must be obtained to proceed.
The home cannot be used as an investment: If the home was used as a rental, the property does not qualify for an FHA short sale.
The seller is facing a hardship: Sellers who plan to walk away from the home or hope to do a strategic short sale do not qualify.
The seller must be at least 30 days delinquent: HUD is very careful to say a seller should not be encouraged to stop paying on a mortgage. However, if the seller is not in arrears, the FHA short sale will not be approved.
If your short sale approval appears to be going nowhere, it's possible it is stuck in FHA exploration. FHA would rather first explore the possibilities of a loan modification before approving a short sale.
FHA Short Sale Eligibility
You may be eligible if you meet all the following criteria:
You have only one FHA-insured loan
You're experiencing a permanent financial hardship such as reduced income, medical expenses, or divorce
You live in the house unless you left the property for the same reason you can't make payments
The house wasn't purchased for rental or used as a rental for more than 18-months
You're able to offer a clear title to the property with no liens from any other parties
You're unable to modify your current home loan, or don't wish to remain in your house due to other circumstances, such as a job relocation.
FHA Short Sale Process
Starting The Process
The entire process usually lasts 4 to 6 months, but it can take longer. FHA foreclosure guidelines first require that your lender evaluates you for a loan modification or other "home retention" options. (It does not matter if your home is in foreclosure or pre-foreclosure. The process can be started at any time.)
We will help you put together all of the required documentation and submitted it to your bank for their initial review. Once all documentation is reviewed, you will either be qualified for a loan modification (which you can opt-out of), or your lender will begin to review you for a short sale.
Determining Market Value
When you have been approved for the short sale of your home, HUD will conduct a full appraisal (at no cost to you) to determine your home's market value.
After an offer is received from a buyer, HUD will require that the offer amount received from a buyer is within a certain percent of the established value.
Obtain FHA Approval to Participate
With an FHA Short Sale, you must first receive approval to participate in the HUD pre-foreclosure sale procedure (PFS) and then get an offer from a buyer. This is different than a standard short sale, where the lender requires you to obtain an offer first. The FHA will not approve a short sale until you're accepted into the program.
When your application for a short sale is approved, FHA will enter into a contract with you called an Approval to Participate in the HUD Pre-Foreclosure Sale procedure. (FHA Short Sale HUD Form 90045)
Marketing Your Home for Sale
After receiving your "Approval to Participate", you will have a period of 120 calendar days to market the house and obtain an offer. With the short sale of a home, it can be in "As-Is" condition, so you do not need to worry about making any repairs.
The house cannot be sold to a family member or anyone you have a personal connection to. It is required to be an "Arm's-Length Transaction".
Submitting an Offer for an FHA Short Sale
Once an offer is received on your home, we will package the executed purchase contract and supporting documentation to submit to your lender review. During this process, HUD will either approve the short sale or counter the buyer's offer price. When reviewing the offer, they are not concerned with the current balance on your mortgage. They are only concerned with the current value of your home and making sure that the net amount they receive after all expenses are paid is within 88% of the market value.
Short Sale Approval and Closing
When the offer is accepted, your lender with issue an "approval letter" releasing your home for purchase. The approval letter will specifically state that the lender will forgive the remaining balance on the mortgage. If there was a pending foreclosure date, that date will be postponed in order to give time for closing.
The closing will typically take place 30 days after receiving the short sale approval letter, at which point you would need to be moved out of the house.
When the transaction is closed, all fees will be paid by the lender and the mortgagee will be settled from the proceeds of the sale.
FHA Relocation Assistance
With an FHA loan, you can receive relocation assistance after a short sale. At the closing, you could be eligible to receive up to $3,000 to help with your moving costs, rental, and other relocation expenses. Each short sale is different and the lender will base their decision on the specific situation.
Stop an FHA Loan Foreclosure
If you have an FHA Loan and are behind on payments or in active foreclosure, you need to act quickly. FHA requires that you have an "Approval to Participate" in order to postpone the foreclosure date. The "Approval to Participate" is a short sale pre-approval contract required to short sell a property insured by the Federal Housing Administration.
Once an "Approval to Participate" is issued, the lender must postpone foreclosure until an acceptable offer is made, or no offer is made for so long that a short sale has to be abandoned.
Contact us today at 619-777-6716 or submit your information on our contact form and we will be in touch right away to discuss how we can help you stop your foreclosure.
Buying A Short Sale With an FHA Loan
If you are buying an FHA short sale with an FHA loan, you may require a closing credit to help pay for your closing costs. FHA will allow a 3% credit when FHA is insuring the borrower's new purchase.
If you are not using an FHA loan, FHA will not allow more than a 1% credit towards the borrower's closing costs. It is possible to obtain a variance on a case-by-case basis. FHA expects to net 88% of its approved sales price. If the total net proceeds exceed the FHA minimum, it is possible that FHA might approve a higher contribution towards your closing costs.
Tax, Credit, and Legal Considerations In An FHA Short Sale
A short sale may result in Tax implications based on the remaining balance on your mortgage that is forgiven. If you receive relocation assistance, it may be considered "income" and could also have tax implications. It is important that you consult with a tax advisor to understand how this may affect you.
We have excellent CPAs and attorneys that will be happy to discuss your situation with you at no cost.  You can learn more about Taxes After A Shore Sale HERE, or contact us today to learn more.
Can You Buy A Foreclosed Home With A FHA Loan
Yes, you can purchase a home that has been foreclosed upon with an FHA loan as long as the property meets FHA's guidelines. This can oftentimes be difficult due to the condition of foreclosed properties. Foreclosed homes oftentimes have differed maintenance and are in need of repairs.
As part of the home buying process, an appraisal is completed to determine the estimated market value of a property. In addition to evaluating the market value of the home, the FHA appraisal also confirms that the property meets the minimum standards set by the U.S. Department of Housing and Urban Development (HUD).
FHA Home Appraisals Require Two Steps:
FHA Site visit:
An FHA appraiser will visit the home in person to write notes and take photos. They check for the structure's quality, the interior and exterior condition, the state of fixtures and systems, and the condition of the lot.
Market research:
Appraisers research selling prices for comparable homes by reviewing homes that closed in the same general area and typically closed during the past six months. They use their findings from the site visit to estimate the market value of the home.
Checklist of FHA Appraisal Requirements
FHA appraisers must follow the HUD guidelines for minimum property standards. Homes that receive an FHA loan must meet the following appraisal requirements, or be repaired to meet the requirements, to be approved for an FHA loan:
Must have an undamaged exterior, foundation, and roof
Must have safe and reasonable property access
Must not contain loose wiring and exposed electrical systems
Must be free from damaged underground storage tanks and soil contaminants
Must have a working, permanent heating system that can heat the property adequately
Must have surfaces free of chipping or peeling lead-based paint
Must have adequate access to attic spaces and natural ventilation in crawl spaces
Must have access to clean water
Must be free from wood-destroying insect infestations (Section 1 Termite Clearance)
Must have working utilities, such as water and heat
Must not have interior and exterior health and safety hazards, such as no handrails on steep staircases
Must be a marketable property
Can You Buy A Short Sale With An FHA Loan
Yes, you can buy a short sale with an FHA loan, but all of the same restrictions that apply to buying a foreclosed home with an FHA loan apply. See the section above for all of the details.
Can I Get Another FHA Loan If I Short Sell My House
Yes, you can get another FHA loan after you sell your house, even if it was through a Short Sale.  FHA requires that at least three years have passed from the date of the short sale before getting a new mortgage. Under certain extenuating circumstances, it is possible to buy in less than three years. Extenuating circumstances are situations beyond the borrower's control such as serious illness or death of a wage earner. FHA specifically mentions that divorce or job relocation are not extenuating. You must have documented proof of the extenuating circumstances in order to take advantage of them.
We have put together a detailed article evaluating all options for Buying a Home After a Short Sale that you can review HERE.
FHA Loan Short Sale Negotiator
If you have an FHA loan and are considering a short sale or loan modification, make sure you are working with a real estate agent and short sale negotiator who is an FHA short sale specialist.
Many companies and agents claim to be proficient in these types of sales, but few possess the knowledge and experience. Our team has negotiated over 3,500 short sales and we have extensive knowledge of FHA Short Sales.
Contact us today at 619-777-6716 or submit your information on our contact form and we will be in touch to discuss how we can help you.